CORPORATE CONTRIBUTIONS AND THE CONSTITUTION.  Rick Hasen has an update on an interesting development in a case involving a challenge to the corporate contribution ban here.
DOJ AND ENSIGN. The Hill. "The Justice Department will likely renew its investigation of former Sen. John Ensign (R-Nev.) in light of the more than 1,000 emails the Senate Ethics Committee received at the tail end of its investigation, according to Reuters."  The Reuters story is here.  Sen. Coburn says part of the Senate Report is not accurate.  Politico.
WHAT HAPPENED AT THE FEC YESTERDAY? The agency's press release is here.
ARIZONA RECALL MISHAP. Joshua Spivak at The Recall Elections Blog covers developments here.  The site has quickly become a super resource on the law (and politics) of recalls.
FEC ENFORCEMENT. Roll Call.
GROUP WINS NONPROFIT STATUS. The Times. "The Internal Revenue Service has granted nonprofit status to the group that brought down two senior executives at NPR and dealt a death blow to the community organizing group Acorn with videos of its employees giving tax advice to people claiming to be a pimp and prostitute."
DRAFT EO IN THE NEWS. Roll Call. "Republicans introduced legislation in the Senate and the House on Thursday that would block a draft executive order requiring contractors bidding on federal projects to disclose political contributions."
COMMERCE AND CONGRESS. Politico. "GOP Freshman Rep. Scott Tipton (R-Colo.) sent a letter to the House ethics committee Thursday regarding 'improper' e-mails his daughter sent using his name to solicit business for the tele-town hall services company where she's employed."
EDWARDS MEETS WITH BUNNY. Raising eyebrows.  "ABC's James Hill reports: John Edwards, while facing looming criminal indictment, spent the afternoon in Upperville, Virginia, visiting one of the key players in the alleged scheme to cover-up his affair."
EXPRESS ADVOCACY IN THE MEDIA. The Post.
FOR MEMORIAL DAY. There won't be any new posts here until Tuesday morning.  For Memorial Day here are some of my photos from the 2011 Joint Service Air Show at Andrews Air Force Base last weekend.  The highlight of the show?  The United States Air Force Thunderbirds, of course.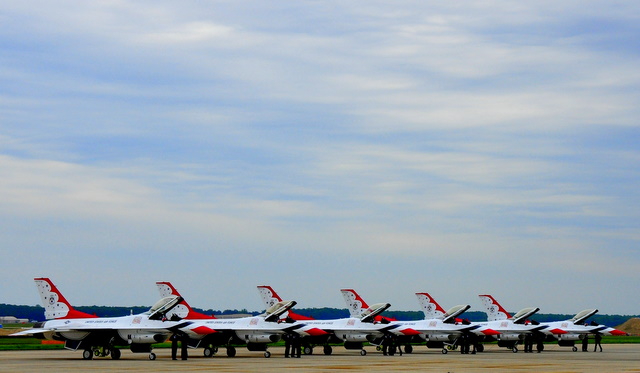 HAVE A GREAT WEEKEND.  POSTS WILL RESUME TUESDAY, MAY 31, 2011.