FIGHTS OVER SONGS AND CAMPAIGNS. The Post. "Although presidential campaigns have adopted theme songs since Abraham Lincoln was running for office, squabbles between candidates and musicians have only become commonplace since 1984, when President Ronald Reagan name-dropped Bruce Springsteen and his 'message of hope' while stumping in New Jersey."
AT&T LOBBYING NUMBERS. Here.
O-12 Q2 PUSH. Politico.
12 FUNDRAISING AND THE R'S. The Times. "Fund-raising by the Republican presidential candidates appears to be off to a slow start this year, hindered by the struggling economy, the absence of a clear and compelling front-runner, and the desire of many of the party's biggest donors to wait and see how the race develops."
HUNTSMAN'S PERSONAL FUNDS. The Post.
ETHICS AND THE SUPREMES. The Times wants a code of conduct.
TWITTER TOWN HALL Y'ALL. The White House will host a Twitter Town Hall next week.
WILL ON THE AZ PUBLIC FINANCING CASES. Here.  "The Arizona law's fate actually was sealed in 1791, when the First Amendment was ratified; 220 years later, one wonders: When will people eager to empower government to regulate speech about itself abandon the fiction that political money can be regulated without regulating political speech? Will their long losing streak in the Supreme Court ever convince them that the First Amendment requires debate about government without government's regulatory intervention?"
PLEA IN PG COUNTY. The Post.
FINE FOR LT GOV IN SC. Story here.  "Ard, a Florence Republican, racked up more than $20,000 in questioned expenses after his November election, paying for hotel rooms, football tickets to the Southeastern Conference championship game and a $799 dress for his wife to wear to the inauguration."
SUPER PAC DEVELOPMENTS. Roll Call. "The FEC action means lawmakers and party officials may collect money for super PACs as long as they stick within the $5,000 federal PAC contribution limit and don't go after prohibited corporate and union treasury funds."
COLBERT DAY. The Hill. "The Federal Election Commission ruled Thursday that comedian Stephen Colbert could form his eponymous political action committee and use his show to promote it."  The Colbert Report website has video coverage of the day's events here.  Milbank has his special take on the day here.   I managed to catch a photo of Mr. Colbert as he addressed the crowd gathered on E Street.  He and his PAC workers were swiping credit cards as fast as they could.  Look for some big Q2 numbers.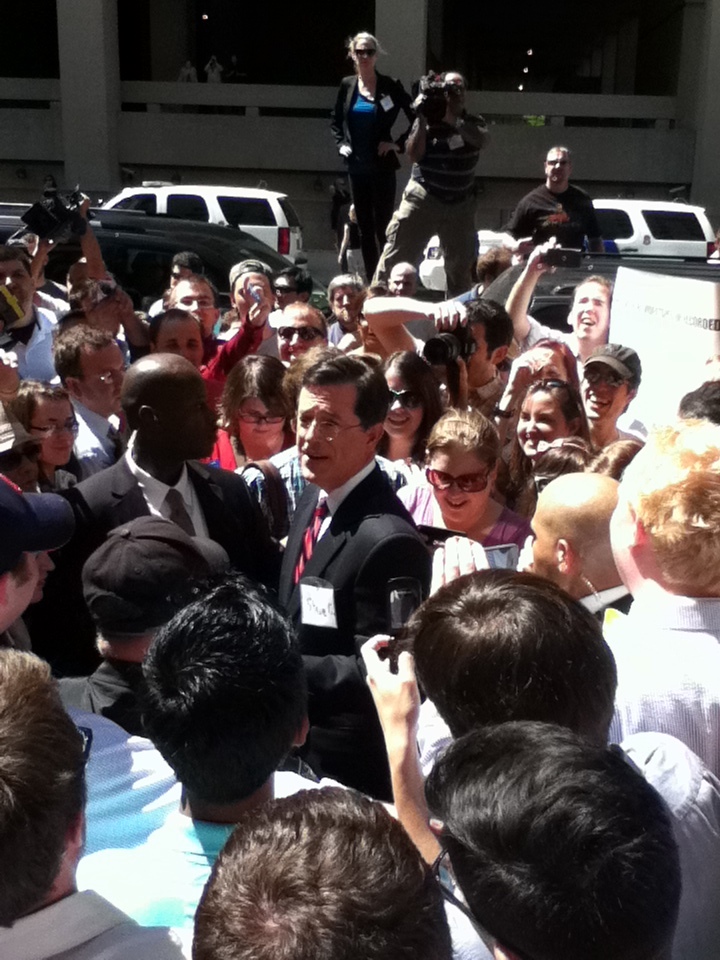 HAVE A GREAT 4TH OF JULY WEEKEND.  I'LL RESUME POSTS ON TUESDAY, JULY 5TH.