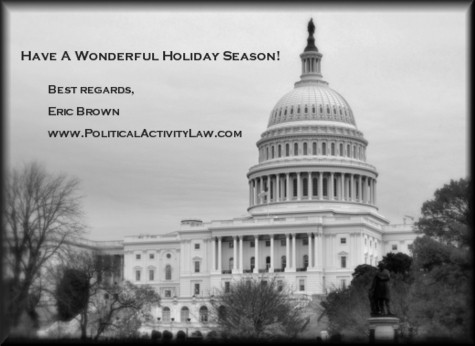 HAPPY HOLIDAYS!  Today's list of political law links will be the last of 2013.  Thanks to all and please accept my sincerest wishes for a happy and safe holiday season.  I'll be resuming regular posts in early January.  Until then, enjoy some time off, recharge your batteries, and brace yourselves for a federal election year that promises to deliver exciting new developments in the ever-changing world of political law.  All of which, of course, will be noted at PoliticalActivityLaw.com.
BILL PASSES SENATE.  Senate Floor:  "Passed H.R.3487, the FEC Administrative Fines Program Extension."
AL:  LOOKING FOR TEETH.  AL.com.  "A legislative committee is looking for ways to better police compliance with campaign finance disclosure law."
MD:  OK TO RAISE DURING SESSION.  WP.  "The Maryland State Board of Elections ruled Thursday that the running mate of Democratic gubernatorial hopeful Anthony G. Brown can continue raising money during the coming legislative session even though Brown himself is prohibited by law from doing so."
MN:  DFL FINED.  Daily Globe.  "A $100,000 fine was assessed against the Minnesota DFL Senate campaign by the state Campaign Finance and Public Disclosure Board earlier this week after it determined Democratic campaign organizations improperly worked together."
NH:  GRANNY D REDUX.  BoingBoing.  "Larry Lessig and friends are walking the length of New Hampshire for #NHRebellion, to reform campaign finance and try to end corruption in American politics…"
NJ:  RED BANK PAY TO PLAY CHANGE.  Asbury Park Press.  "The six-member council voted unanimously to amend the borough's pay-to-play law to mirror a state law, citing concerns about potential legal action over a similar law in Monroe Township, which required developers before planning and zoning boards, and their professionals, to disclose campaign contributions."
OH:  CHALLENGE TO PETITION.  Columbus Dispatch.  "The director of a liberal think tank filed a challenge this week to a ballot initiative that would provide casino tax revenue to help fund the campaigns of Columbus politicians."
WA:  CLEARER RULES SOUGHT.  Seattle Times.  "A state ethics panel is calling for clearer rules about how often lobbyists can take lawmakers out for free meals."
JAPAN:  DISCLOSURE ISSUES.  VOA.  "[Tokyo Governor] Naoki Inose said the nearly $500,000 payment he received was a personal, interest-free loan and tat the money has already been returned. Nonetheless, critics maintain the payment amounted to bribery and have pressured him for weeks to resign."
ONCE AGAIN, HAPPY HOLIDAYS.