FEC IN DEFAULT. CREW v. FEC. Haven't seen the FEC held in default like this before (see below). The complaint, made public on the FEC website, is apparently still open before the agency.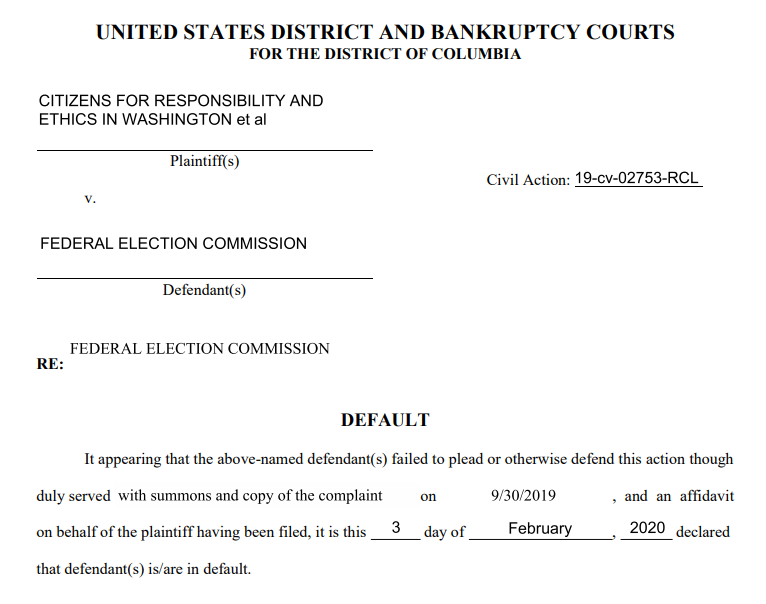 DO LIMITS WORK? STL. "In politics, money is like water. It finds a way."
ID: DEADLINE EXTENDED. IP. "Idaho Secretary of State Lawerence Denney announced this afternoon that the state is extending tonight's campaign finance report filing deadline by a week."
OH: COMPLAINT ON FUND USE. F19. "A Republican lawyer has filed a complaint with the Ohio Elections Commission against Democratic Cincinnati City Councilwoman Tamaya Dennard."
OR: DROPPED OUT. KDRV. "One of the Democratic contenders for Oregon's Secretary of State announced that she would suspend her campaign on Monday, making vague reference to a story about her use of campaign funds."
PA: USING THE LAW. PE. "Liberals have been beating establishment Democrats with the help of outside groups that outspend the candidates themselves. And campaign finance reform is no longer the rallying cry it once was."
HAVE A GOOD DAY.