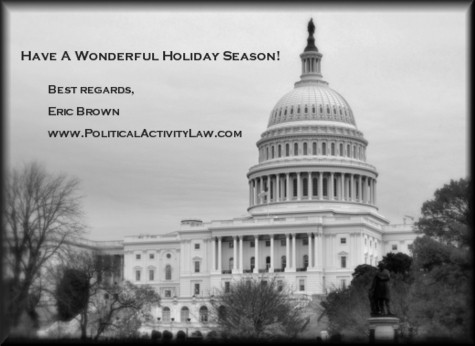 WHAT A YEAR!  Thanks for making this another great year for the site and I hope your year was filled with personal and professional success!  As we look to 2017 and what's next, I think it's fair to say the year will be filled with a number of political law issues and new reforms and controversies.  I hope to continue to chronicle all of the breaking developments in political law right here.  All my best to you and yours for a safe and wonderful holiday season.
THE ELECTORAL COLLEGE AND CAMPAIGN FINANCE.  CCP. "Campaign finance laws have become so complex, it is almost impossible to explain even the basics in an hour-long lecture. And one threat of this complexity is that clever political types can almost always look at the law and discover new and unprecedented ways to harass their political opponents. This is bad in any case. But it also illustrates the importance of an approach that the Republican Commissioners on the FEC have long taken, of insisting upon reasonable notice before finding 'reason to believe' that an offense has been committed in cases of first impression."
CRIMINAL INTENT AND CAMPAIGN FINANCE.  NRO.  "Bribery can be very difficult to prove or to police. Historically, we have finessed that in part by placing limits on how much money people can donate to political campaigns per se — which is to say, to political operations under the direct control of the candidates themselves — as well as by prohibiting campaign donations from corporations, whether for-profit or nonprofit."
SUPER PAC CENSORSHIP.   IJ.  "While we appreciate that almost all stations that reviewed the ads validated their accuracy and kept them on the air, the actions of CBS in changing their process and censoring political advertising without giving the sponsor a chance to argue our case is totally unacceptable and bears scrutiny."
LOBBYIST REFLECTS.  NYT.  "After more than 30 years in the Beaux-Arts-style chamber headquarters across Lafayette Square from the White House, Mr. Josten is now in his own transition, retiring after helping turn the chamber into a political powerhouse and watching his specialty — sophisticated legislative give-and-take — become less prized in a polarized capital."
AK:  MEMBERS USE LAW.  ADN.  "The 1996 law clearly didn't intend to allow lawmakers to raise money from lobbyists using political groups separate from their campaigns, said David Finkelstein, one of the original proponents of the reforms — which he said were designed to reduce the amount of influence lobbyists could exercise over the legislative process."
MO:  GUNN TO PUSH REFORM.  CL.  "House Speaker Philip Gunn says a top priority for the legislative session starting in two weeks is passing campaign finance reform, a measure that late last session died an ignoble death in the House he leads."
NY:  CARD QUESTIONS.  NYO.  "Tens of thousands of residents of Bay Ridge got a holiday message last week from a politician who has never represented them—but who is likely to seek their City Council seat next year, and may have already violated the city's strict campaign finance rules."
WA:  AG FILES COMPLAINT.  TDW.  "State Attorney General Bob Ferguson filed a complaint Monday against 19th District House candidate Teresa Purcell after receiving a tip she and her committee failed to follow campaign finance laws during her campaign."
HAVE A GOOD DAY.