HR 1 PASSES. WP. "The House approved a far-reaching elections and ethics bill Friday — one that would change the way congressional elections are funded, impose new voter-access mandates on states and, in one of several provisions targeting President Trump, force disclosure of presidential candidates' tax returns." The text should be here.
ACLU AGAINST. ACLU. "The American Civil Liberties Union, on behalf of its 3 million members, supporters and activists, opposes H.R. 1, the For the People Act of 2019 as it was reported out of the House Administration Committee."
ACLU AND POLITICS. 60MIN:
Lesley Stahl: You have that ad. You tell the voters of Kansas all the things that you strongly disagree with about him. And then at the bottom it says, "We don't endorse candidates."

Faiz Shakir: Yes, that's right. We are also advertising to people that we are a nonpartisan organization, that we don't endorse and oppose candidates. So when you watch an issue–

Lesley Stahl: It's like a wink thing. Ha, ha, we don't endorse–

Faiz Shakir: I don't think it is a wink thing.
SENATE MAJORITY LEADER ON HR 1. CONGREC: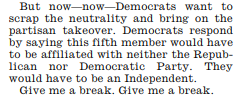 INVESTIGATION REQUESTED. FOX. " An investigation is needed to determine if socialist Rep. Alexandria Ocasio-Cortez, the media magnet on the far-left fringe of the Democratic Party, has broken federal campaign finance laws. If convicted of criminal conduct, she could get up to five years in prison for each violation."
CA: WARNING ISSUED. DPT. "According to documents obtained by Dana Point Times, the Enforcement Division of the Fair Political Practices Commission issued warning letters to the campaigns for Mark McGinn, Charles Payne and Joe Jaeger."
CA: AUTHORITY SOUGHT. JDS. "In an effort to help prevent the misuse of public funds by public agencies and officials, the Fair Political Practices Commission has requested changes to California's Political Reform Act. The FPPC wants legislation amending the PRA to authorize it to bring administrative and civil actions against public agencies and officials for spending public funds on campaign activity."
CO: COMPLAINT DISMISSED. DP. "State election officials on Friday dismissed a campaign finance complaint that had been lodged against Colorado Rising, the group behind Proposition 112."
MA: UNION LOOPHOLE. BG. "Rules in campaign finance law should apply equally to everyone, but since the mid-1980s, labor unions in Massachusetts have enjoyed a special privilege. Unlike employers — or, for that matter, individuals — unions have been allowed to contribute up to $15,000 to candidates in state elections."
NV: LITTLE ENFORCEMENT. LNJ. "A government program designed to bring transparency to lobbyists' private meetings with Clark County Commission members operates without oversight or enforcement, a Las Vegas Review-Journal investigation has found."
WV: DAY 60 APPROVAL. MN. "A bill to raise West Virginia campaign finance limits to match federal levels, often nicknamed the 'dark money bill,' generated long debate at the end of the long Friday House of Delegates floor session."
HAVE A GOOD DAY.