Good morning.  This is the final morning report for 2010.  (There might be a few more individual blog posts before January 3, 2011, and you'll still get those through email if you're subscribed.  Or you can just stop by PoliticalActivityLaw.com to see if there's anything new.)
This year has been this site's biggest in terms of page views, readers, subscribers, and links.  We'll be "celebrating" the site's three year birthday in January.  Thank you for reading and thanks for your helpful emails and links.  Some things I tried on the site this year worked and some didn't.  What's in store for 2011?   Stay tuned…  and have a safe and happy holiday season!  Now on to today's stories (scroll down).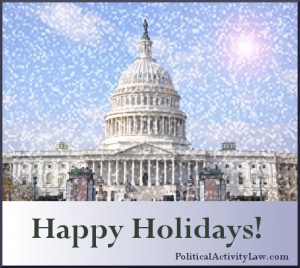 Paterson and the Yanks
New York's Commission on Public Integrity has issued a report in a matter involving Gov. Paterson and Yankees tickets.  The Times report is here.
Inauguration funds in the news
USAT reports.
At least a third of the nation's newly elected governors are collecting large contributions from wealthy individuals and companies to help pay for their inaugural celebrations, records and interviews show.
Robocall raid
There have been new developments in a case involving robocalls in Maryland.
Alabama ethics law
Is signed by the Governor.  In other Alabama news, a state lobbyist pleaded guilty in a matter involving alleged bribery.  The Times reports.
FEC in the news
Here (a lawsuit regarding allegedly reimbursed contributions) and here (a matter involving Sen. Ensign).
Sponsored bills in California
Who are they sponsored by?  The story is here.
Timing of contributions in the news
Politico explains.
As beer and wine wholesalers were looking for co-sponsors for their top legislative priority this Congress, they opened their checkbooks wide — giving at least $1.3 million in campaign cash to House lawmakers who signed on to the bill.
Times supports Arizona law
Editorial here.
The Supreme Court's ruling in Citizens United, which unleashed corporate, labor and other financing in elections, makes fair public financing more important than ever. The court now lets moneyed institutions spend unlimited amounts in politics, so the court must allow this essential part of the Arizona system and mechanisms like it. It must let candidates who need public support have enough public dollars to compete effectively.
What's new with the Public Integrity Division?
The Times has a report on recent developments.
"They're gun-shy," said J. Gerald Hebert, the executive director of the Campaign Legal Center, a nonpartisan group that seeks greater disclosure of how money influences politics.
Umbrage in DC over partisan use of DC government buildings
The Post explains in this editorial.
Here, one-party rule has resulted in such coziness between government and party officials that the use of District facilities for partisan events apparently has become business as usual.
Have a great holiday season and see you in the new year!