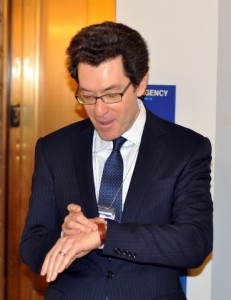 The White House press release is here.
WASHINGTON – President Obama announced today his intent to recess appoint six nominees to fill key administration posts that have been left vacant for an extended period of time.

The President announced his intent to recess appoint the following nominees:

. . .

Norman L. Eisen, Nominee for Ambassador to the Czech Republic, Department of State
Norman L. Eisen has served since January 20, 2009 as Special Assistant to the President and as Special Counsel to the President for Ethics and Government Reform. In that capacity, he has helped lead the Administration's historic initiatives on government ethics, lobbying regulation and open government. His portfolio has also included financial regulatory reform, campaign finance law, whistleblower protection and other reform issues.