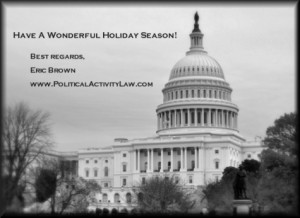 HAPPY HOLIDAYS!   This will be the last set of links I'll be sending around for the year.  Thanks for reading!  I expect next year will be filled with interesting developments in political law, of course.  I'm also planning a few changes to celebrate this site's ten year (!) anniversary.  Have a wonderful and safe holiday season and all my best to you and yours!
FACEBOOK HIRING.   FB.  "This position will play a key role in supporting Facebook's compliance with legal and regulatory requirements and providing legal counsel."
SEASON OF GIVING.   RCP.  "Election 2016's final price tag—the largest in U.S. history—fell just short of $7 billion for all federal elections. Americans will spend about 150 times more on Christmas cards and stuffed teddy bears than we spent on politics during what many describe as the most consequential election of the 21st century."
CHECKING THE LIST.  SS.  "U.S. Reps. Alcee Hastings and Debbie Wasserman Schultz have landed on a conservative group's year-end naughty list — a placement both dismissed as ridiculous."
DC:  PUBLIC GIFTS URGED.   WP.  "Under the bill, candidates for office in the District could receive limited public matching funds if they meet certain conditions. This includes raising a certain amount of money from small donors and forgoing corporate or political action committee contributions."
GA:  AMAZON REGISTERING.  AJC.  "Amazon, the e-commerce giant that Georgia is wooing for its second headquarters project, now has a registered in-house lobbyist at the State Capitol."
IL:  LOBBYIST FUNDS.   CT.  "Longtime Lake Forest City Manager Bob Kiely said Thursday that in a quest to get an Amtrak stop on the city's west side, nearly $200,000 in city funds was paid to a lobbying firm without City Council approval."
IN:  VETO DEFEATED.  JG.  "In a terse 6-3 vote Tuesday, the Fort Wayne City Council narrowly overrode Mayor Tom Henry's veto of a pay-to-play ordinance that city officials say likely runs afoul of state and federal law."
HAVE A GOOD DAY.