Good morning
Please find today's links below.  The morning report will take a few days off.  Don't fret.  I'll return mid-week in full force and next week look forward to some blogging from the COGEL conference in Washington, DC.
House Oversight and subpoena outlook
The Times examines where Rep. Issa might take House Oversight and Government Reform.
The fight against earmarks
Is a charade, according to comments of Sen. Dorgan here.
Following the money
Leads to consulting firms and stations, according to this report.
Lobbyists on boards and commissions
If you're interested in the topic of lobbyists serving on government boards and commission, you're likely familiar with this from OMB.  Meanwhile, the Post reports on the composition of a DHS panel here.
DeLay news
By now you've already heard the news that a verdict in the DeLay trial verdict came out on Thanksgiving eve.  Politico noted the verdict in this report.  The Hill noted the story here.  The Times discussed the case in an editorial on Thanksgiving.  Another angle of the story is the topic of this Times column. The judge's sentencing options are the topic of this report.
Twitter-quatting and the Speaker-elect
What happens to the Twitter account @speakerpelosi?  Why wasn't @speakerboehner locked down?  Will Twitter release it to the Speaker-elect?  The Hill covers some of these questions here.  Who's locked down @speakercantor, by the way?
Federal Election Commission civil penalty data, 1995-present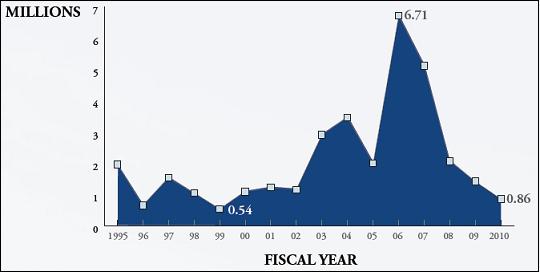 Source:  http://www.fec.gov/pages/budget/fy2010/par_2010.pdf at 11.
Political committee status and express advocacy
All in one Federal Election Commission enforcement matter from 2006 (MUR 5831 (Softer Voices)).  (Click here and enter "5831" in the case number box; why can't cases be accessed through permalinks?)
Representing Alaska native corporations
Alaska native corporations have drawn attention from the Post and other sources before.  Now comes another report.
Alaska native corporations were created in 1971 to settle land claims and help improve life for tens of thousands of impoverished native people. Almost 300 subsidiaries have been created to pursue federal work, and they have received more than $29 billion over the past decade, most of it through contracts awarded without competition.
Campaign staff and taxes
In the news.
[Two Maryland candidates] avoided these costs by paying their campaign staffs as independent contractors instead of regular employees, according to expense reports filed with the Federal Election Commission.
Convention compliance costs
Convention veterans are allegedly alarmed about spending related to the 2012 Republican convention in Tampa, Florida.
According to an FEC report filed in October for the third quarter of this year, the Arrangements Committee spent about $67,000 on salaries, more than $50,000 each for legal consulting and equipment, about $40,000 on rent, almost $40,000 on site evaluation consulting and about $25,000 on hotel management consulting.
Gifts to judges
Is the topic of this Times editorial.
K Street party time
Roll Call reports on the holiday party scene this year.
Frank Rich and campaign money
Rich's Sunday Times piece is here.
Subscribing (and unsubscribing)
Thanks for reading.  A reminder:  this post can be delivered to your in-box every day around 9 a.m. EST (click here to subscribe) or if you just can't wait until then it's online by 8 a.m. at PoliticalActivityLaw.com.