THIRD RELIEF BILL AND CITIZENS UNITED. BILL. Page 727 (of 1404!) begins the provisions regarding required political activity disclosures and lobbying restrictions, among other requirements.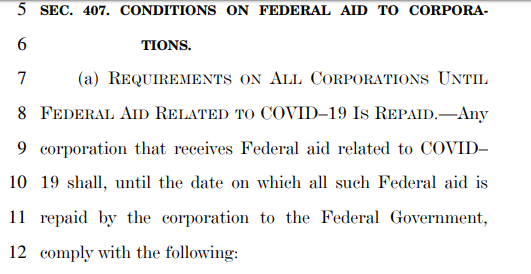 AGENCY WORKING. GE. The commission said 94% of campaign finance reports are filed electronically and electronic filing is required for filers who receive or expend contributions over $50,000 in a calendar year."
PAC READY. POL. "Republicans' top super PAC focused on Senate racesis booking more than $67 million for TV ads this fall, a massive early investment in a core group of battleground states."
PAC ATTACK. HILL. "The largest Democratic super PAC is launching a $6 million campaign hitting President Trump over his response to the coronavirus outbreak."
NEW PAC. MP. "The Committee for Stronger Rural Communities (CSRC), a Super PAC founded to support Rep. Collin Peterson's re-election bid, aims to raise $1,000,000 this cycle and is already half-way there."
SALES SCRUTINY. YAH. "Government watchdog groups have called for investigations by ethics officials, prosecutors and regulators of sales of stock by senators briefed in January on the coronavirus threat."
HAVE A GOOD DAY.